Before I write something about Qudrat Ullah Shahab, I want to mention few things as punch lines as far as my liking, affiliation, understanding and mystics about this person is concerned. I am not some literary or bureaucratic sort of guy. I am just an ordinary person and observations mentioned are sole mine and difference of opinion is always there as far as liking is concerned.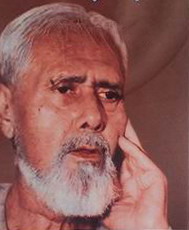 Qudrat Ullah Shahab
I was recommended by my father to go through Shahab Nama when I was in clas 8 in Cadet College Hassan Abdal. My father has been a high school teacher somewhere in Southern Punjab. I read it and things started getting lined for me as far as literature and sufism is concerned. I came across names like Mumtaz Mufti, Ishfaq Ahmed, Ibn e Insha and many more via Shahab Nama.
Curiosity brought me across all the literary work done by the above mentioned personalities. And what I got was respect for Qudrat Ullah Shahab. There are few reasons;
1. He passed ICS examination and got selected as CSP officer.
2. He moved to Pakistan after 14th August 1947 and started serving for newly born Islamic state of Pakistan.
3. He served as DC of Jhang and people still remember him even after 60 years of his tenure.
4. He supported Ayub Khan, so called military dictator. But one thing to mention that Ayub Khan was having so many qualities that he deserved it. I have seen myself people still praying to have some one like Ayub Khan.
5. He was extra ordinary writer. Whatever he wrote, can be compared with top writers of the world up til now and time to come.
6. He was a man of character and principles. Even his critics haven't been able to quote even a single incident of character failure about Qudrat Ullah Shahab.
7. He got himself inclined towards Sufism in the late years of his life according to his critics but as far as my understanding is concerned, he was sufi soul since his childhood.
8. Parameter of judgement about some one is one's personal feel. If feel about that person is positive, he is right. His critics have never stated anything negative about him. Policies are always interest oriented and interest during his time was national and Islamic.
9. I like him even except all above mentioned.
Few days back I was reading a sentence on Facebook. If stated that every second person in Pakistan was Ph.D in religion. Although it was just a comment but a grim fact of our society. We start criticizing some one with out prior knowledge of his nature, his knowledge, understanding, environment, policies, national and international interests of that time and above all demand of that time. We are just being self projection oriented at such times.
Qudrat Ullah Shahab with Ghulam Muhammad
Two days back I read an article about about Qudrat Ullah Shahab written by some one on Rational Pakistan Website. It can be read
HERE
. My reply to that person who shared it with me was "Go and just ask the writer of this article about one thing. Can he just pass the written test of CSS??? If he is able to do that, I'l accept his point of view about Qudrat Ullah Shahab. If not, bring him to accept mine".
I might be getting a bit emotional here but one thing is for sure that Qudrat Ullah Shahab deserves to be respected as a man of character, as a marvelous writer and above all a great humanitarian. Paving ways to blacken his impact of a Sufi bureaucrat will not suffice as Sufism is something like fragrance which prevails itself and can't stopped. So no argument from my side on this point. His social acceptance as a Sufi is itself and argument.
Today is his death anniversary. I am writing few lines just to pay my gratitude to such a great personality. May his blessed soul rest in peace.